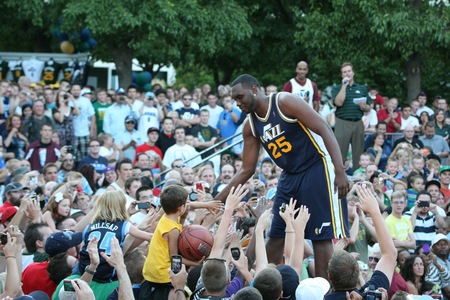 Editor's Note: The post below is written by my buddy and co-worker, Devin. His predictions are going up first because he is less lazy than I am, and therefore, got his done first.
West:

1.
Lakers
-Haven't done anything to get dethroned. Unless Kobe AND Pau go down, there is no way they will lose the top seed.
2.
Thunder
-Everyone's new crush. Not sure if I feel comfortable putting them here, but no one else stands out enough to change my mind.
3.
Spurs
-Please bless they take the Southwest Division back from the Mavericks…please!
4.
Jazz
-As a Jazz fan, I know they get as little love as possible. Although a doomsday mentality started creeping in at the end of last year's playoffs, the BIG changes this past offseason will end up working out for the better. I think the Jazz will surprise a lot of people.
5.
Mavericks
-Overrated. Period. Cuban will try a couple more big trades this year in another attempt to fix a lineup that will never win a title.
6.
Blazers
- They need to buy disaster insurance for Greg Oden. Feel bad dropping the Blazers to 6, but until they can survive a season without losing 1 or 2 major players in the first month, I can't put them any higher.
7.
Hornets
-My sleeper pick. Chris Paul alone could keep this team pretty close to .500. If he stays healthy and finally gets a little more help from everyone else, they may be able to survive long enough to lose in the first round.
8.
Rockets
-Honestly, my shot in the dark. I am sure we are in for another crazy season in the Wild West. There will be at least a team or two who will end up missing the playoffs because of the last week of the regular season.
1.
Heat
-Obvious number one pick. Although Dwyane Wade and his sidekicks have played about 3 minutes together, I can't go against them.
2.
Magic
-They may struggle winning when teams figure out how to shut down Superman…but who cares in an East where anything below the 6 seed BLOWS!
3.
Celtics
-Oldies but (semi)Goodies. Easiest division in the league will give them the 3 seed. That being said, there is no way they get back to the finals this year…or the foreseeable future.
4.
Bucks
-A bit of a surprise in the East. They may be able to slide in under the radar and beat out a good, but fragile Bulls team. In the end a lot hinges on whether or not Bogut can get healthy again.
5.
Bulls
-I have one thing to say to Bulls fans…enjoy the illusions of hope and possibility Carlos Boozer intermittently brings and the frustration each new injury brings.
6.
Hawks
-Ladies and gentlemen…
Joe Johnson
! Really?!
7.
76ers
-I have them making the playoffs based on the coaching change they made this past summer. Doug Collins alone can make them decent enough to make the playoffs (does decent enough mean they are over .500? Doubt it.)
8.
Knicks
-We should have a competition in the east for the last spot called "Who Can Suck the Least?" Winner gets the honor of serving as practice for the Heat as they prepare for bigger and better things. My winner this year…the Knicks!
Champions
:
Los Angeles Lakers
-Overall, I like the idea of the Heat on paper, but until they actually DO something I cannot go against the Lakers. Especially with how easily they have manhandled my Jazz in the past couple of years. Kobe is too clutch, Gasol is too good, and Artest is too psychotic!