Alright, this might be my last Olympic post.
I say "might" because I may have something up my sleeve for another post if I can get some help.
So, without further ado, here are some of the memorable images of the athletes of the 2008 Beijing Games:
Michael Phelps went into China with the goal of breaking Mark Spitz's record of seven gold medals in a single Olympics, participating in five individual events and three relays. Nine days, 17 races and
97 bajillion calories
later, Phelps had eight gold medals hanging around his neck, bringing his career Olympic gold count to 14 - and he's only 23 years old.
Michael Phelps won an unprecedented eight gold medals in a single Games.
Usain Bolt was considered a a gold medal contender, but was expected to get some stiff competition from fellow Jamaican and former world record holder Asafa Powell and American Tyson Gay in the 100 meters. However, Bolt turned the sprint events into his personal playground, showboating for the final 15 meters of the 100m - and setting a world record in the process. He went on to win two more golds and set world records in both the 200m and the 4x100m relay. Bolt's 200-meter time of 19.30 seconds eclipsed Michael Johnson's time of 19.32 - a mark that had not even been approached before or after those 1996 Games until Bolt's sensational race. The relay team, with Powell running the anchor leg, crushed the 15-year-old world record by a full .3 seconds, finishing in 37.10 seconds.

Contrary to popular belief, this pose actually was not made while Bolt was still running the 100-meter dash.
While the U.S. men's basketball team was seeking redemption for recent shortcomings in world competition, the women's squad was busy making its fourth straight undefeated run toward Olympic gold.
Lisa Leslie (center) starred for Team USA again and earned a fourth consecutive gold medal (delicious!)
The U.S. and Brazil dominated the volleyball competitions, with the Americans taking gold in men's and women's beach and men's indoor. The indoor team
overcame the murder of their coach's father-in-law
in China to come out on top. The women's duo of Kerri Walsh and Misty May-Treanor swept each of their best-of-three matches to earn a second straight Olympic gold. The U.S. added a silver medal in the women's indoor competition.
Brazil was golden in women's indoor - piling up a record of 8-0 in matches and 24-1 in sets - while the defending Olympic champion men's team settled for silver. Their men's beach teams won silver and bronze, while the women came in fourth place.

Brazil not only went undefeated in the tournament, they didn't even lose a set until the gold medal match, where they topped the Americans 3-1.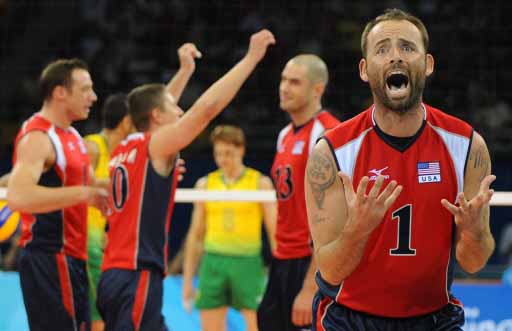 It was an emotional victory in the wake of tragedy for the Americans.
Kenenisa Bekele of Ethiopa is the world-record holder in both the 5,000 and 10,000 meters. In 2004, he won gold in the longer race and was outkicked at the end en route to a silver medal in the 5k. Just a couple of months before this year's Olympics, the AP quoted Bekele as saying he did not want to run both races. Turns out, he went on to run - and win - both races in Olympic-record fashion.
Bekele ran for about 40 minutes to win two gold medals. Usain Bolt, on the other hand, ran for about 40 seconds to capture three golds.
And last, but not least, the Chinese national team, which led all countries with 51 gold medals. The host nation put on quite the spectacle with its opening ceremonies, as well.
Gymnastics was one of many sports in which the Chinese athletes made their mark.